eCommerce websites have definitely been blowing up in the last years, and so have the standards for pages like that where you can do your online shopping. Nowadays, online shoppers expect only the best when it comes to their purchases, so your eCommerce site has to be user-friendly, effective, and very safe. There are quite a few plugins that can help you achieve all of that, and here is a list of the top 10 ones:
1. WooCommerce Table Rate Shipping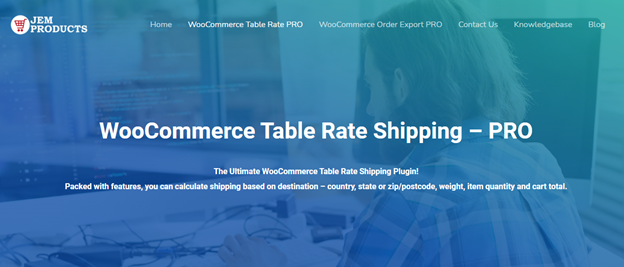 The premium version of the WooCommerce Table Rate Shipping plugin has a lot of features it can offer. Features such as a plan for your shipping rates, as well as the option to add handling fees are at your service. Handling fees can be customized, too. You can add them either to individual or group orders. You also have full control over the shipping amounts, and you can set them to the lowest, halfway, or highest value.
Different methods of shipping are available, like Standard, Freight, Express, and more. The plugin also allows you to hide the method of shipping if you attach it to specific items in the cart. Setting a shipping rate depending on the weight of the product and the number of items in the cart is also possible, as well as the countries, states, or zip codes to which the items are being shipped.
2. WooCommerce Order Export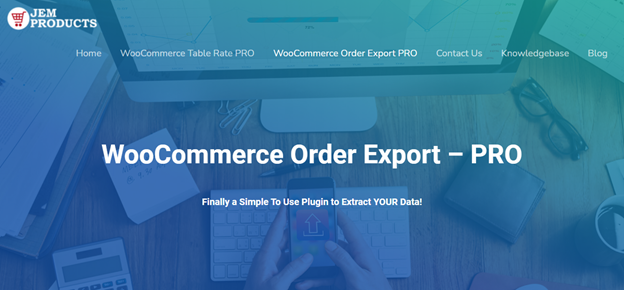 WooCommerce Order Export assists you greatly with managing your WooCommerce store. Making exports is absolutely painless, and it saves you lots of time. There are a few filters available so you can sift through all the information you have so making your way through it all should be easy enough. You can also shift the data you want to Google Docs if you'd like.
The plugin keeps a watch on your exported orders and you can just get updates on the most recent ones. A few automated exports can also be set up, so you can send them to your inbox and your various employees so everyone stays updated.
3. Direct Checkout for WooCommerce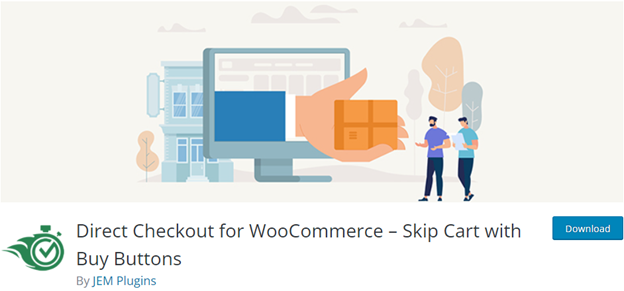 Direct Checkout for WooCommerce helps your customers add the product they want to the cart without having to direct them to the cart. Instead, they arrive directly at the checkout, which saves them some time, and makes it more likely for them to buy multiple products. Checkout systems are a dream with this service, and you don't have to worry about setting anything manually, either. The buttons can be set on any part of your site. They can also be set to be used for some particular items, or all items at the same time.
4. WPC Product Bundles for WooCommerce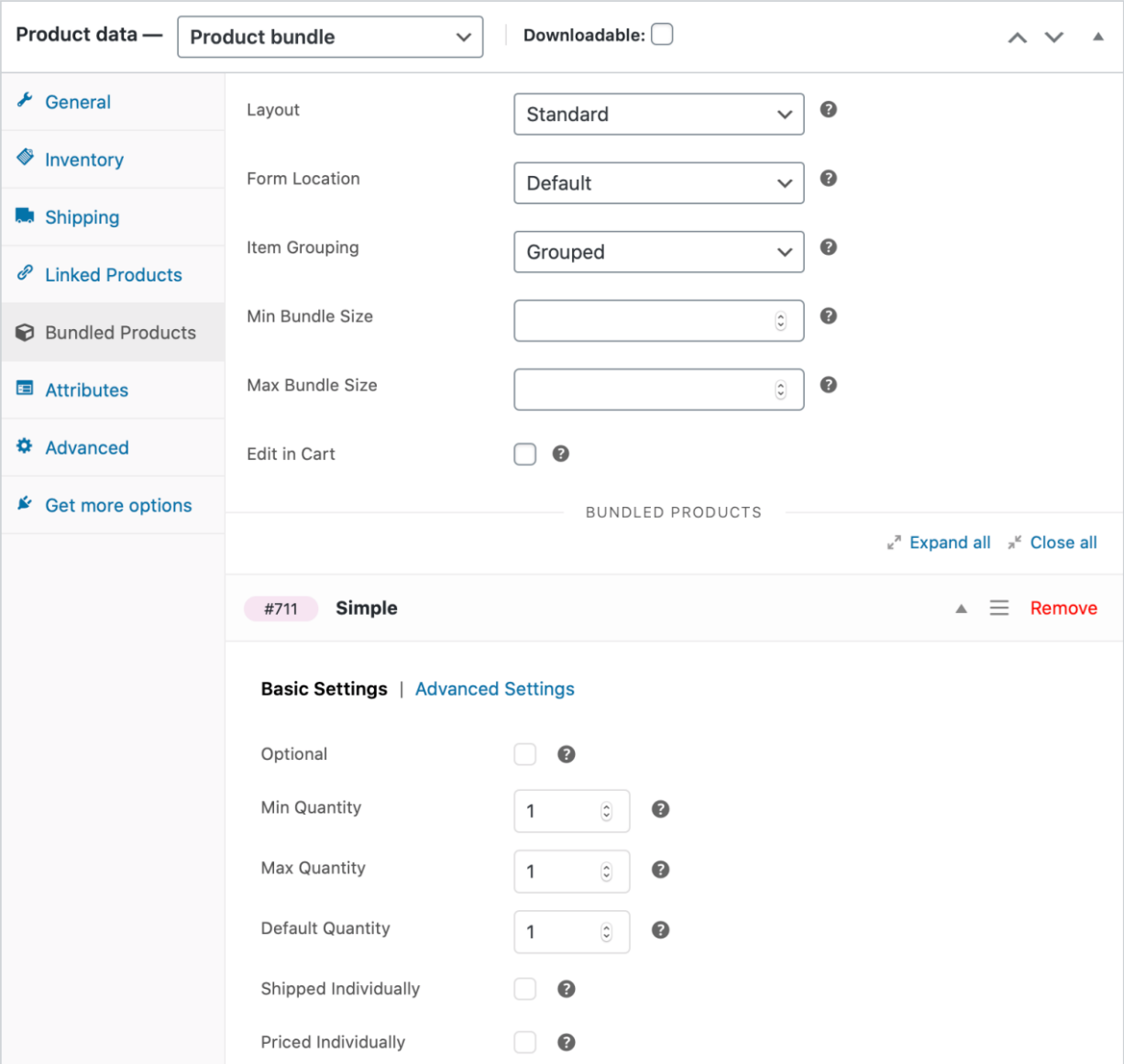 WPC Product Bundles for WooCommerce is great for when you want to sell your products in bundles, and it can go for either downloadable or physical ones, too. With it, you can also recommend products that are usually bought along with the item the customer is currently viewing. It is customizable and allows you the freedom to combine items exactly how you would like them.
It also includes the options to modify the price of shipping and the cost of each bundle you set, as well as notifications when your store's stock is running low and analysis of bundles that have been purchased thus far.
5. WooCommerce Product Reviews PRO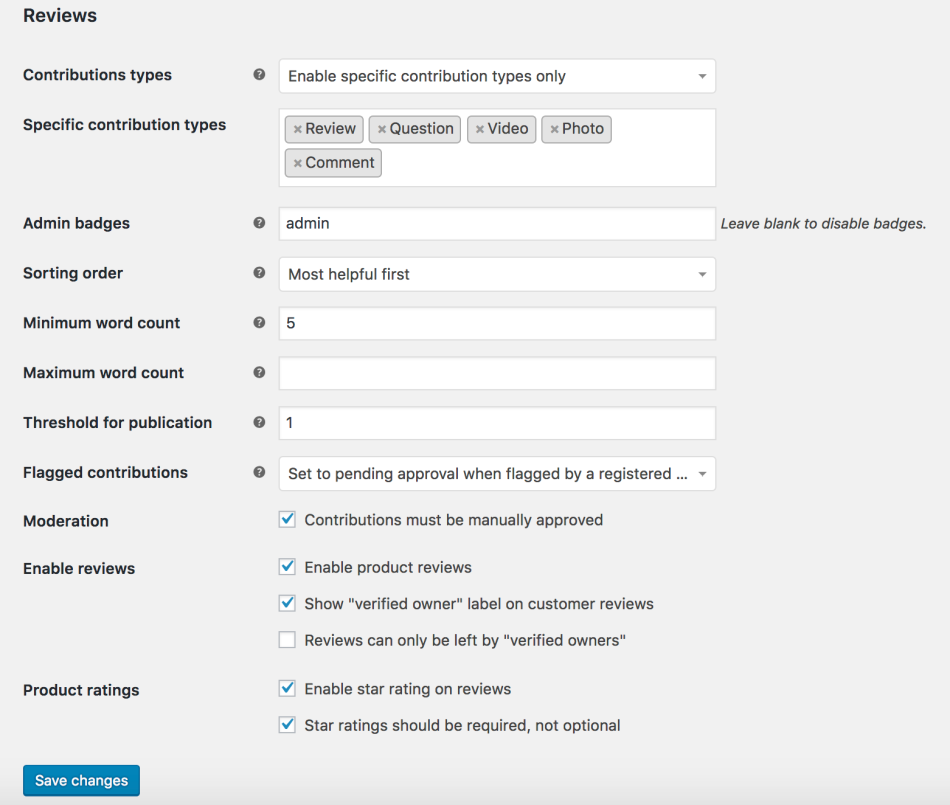 WooCommerce Product Reviews PRO allows your customers to leave comments, ratings, pictures, and videos for review of the products that they have received. You can set many attributes, such as who can write a review, how many words (either maximum or minimum count) a review can have, whether the reviews have to be approved by a moderator before getting posted, and so on. A filter is also provided to make it easier for your customers, so they can sort the reviews by either the most recent or most helpful ones.
6. WooCommerce Payments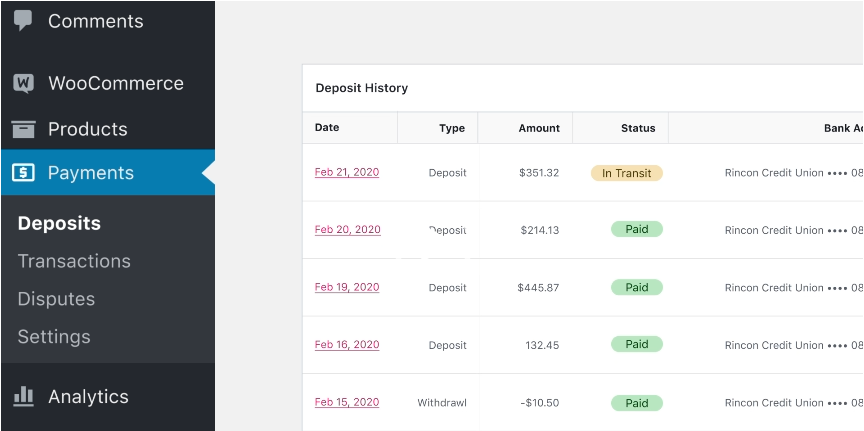 The WooCommerce Payments plugin gets you a way to receive your customers' payments in a very secure manner. It also keeps track of your business's cash flow and you can keep an eye on your overall income. The system is made to support all major credit and debit cards. Not to mention it supports 130 various currencies from all around the world. Another plus is that you can do everything you would like from your website's homepage.
7. Mailchimp for WooCommerce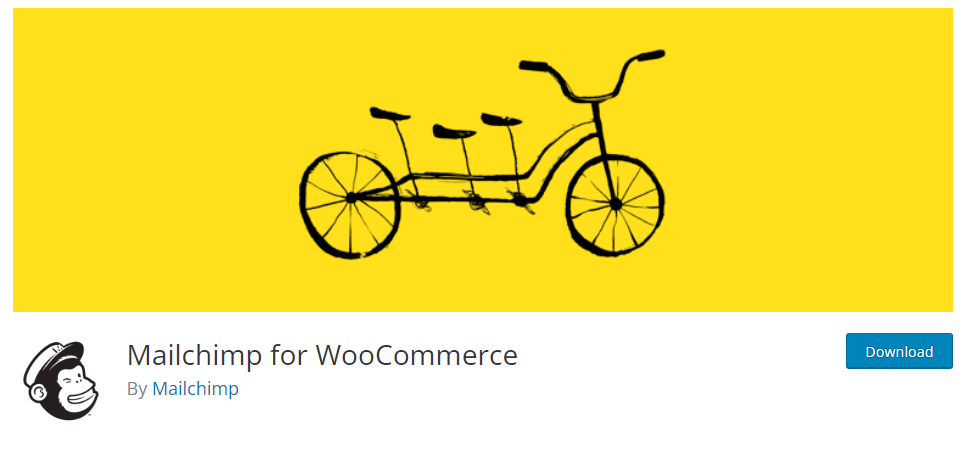 Mailchimp for WooCommerce is a plugin used by many for marketing purposes. It automates your eCommerce business' marketing to make it easier for you to extend your reach. Synchronizing your customers and the data related to their purchases is as easy as it gets. With this plugin, launching your targeted campaigns and doing automatic follow-ups after your customers buy your products is a dream. Not to mention you can also recommend products and recover abandoned carts. All of this is free.
8. WooCommerce Admin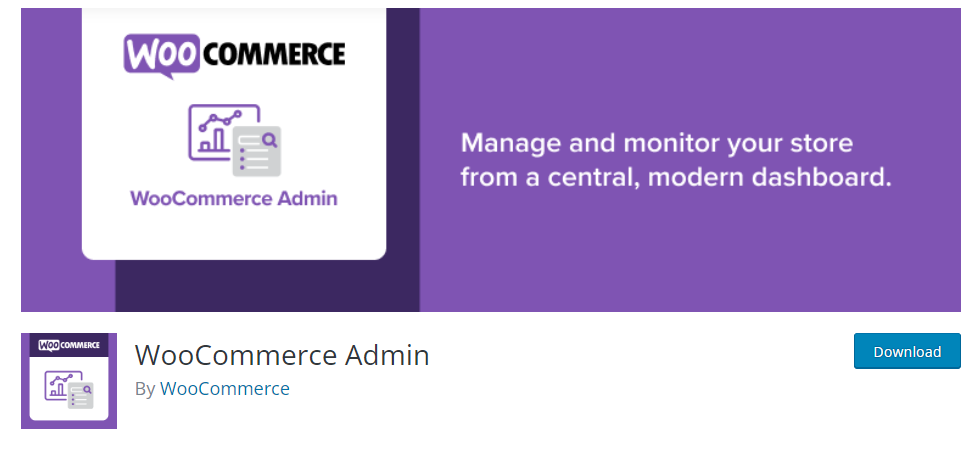 WooCommerce Admin helps you organize and manage your reports. It has a central dashboard that has everything you need. So, you have all information about your store in one place. Various kinds of reports can be checked out, such as Revenue, Orders, Taxes, Coupons, Products, Stock, Customers, and way more. The dashboard that contains all of this data is completely customizable and user-friendly. It is also very easy on the eyes and has performance indicators that correlate with the importance of your store's functioning.
9. TI WooCommerce Wishlist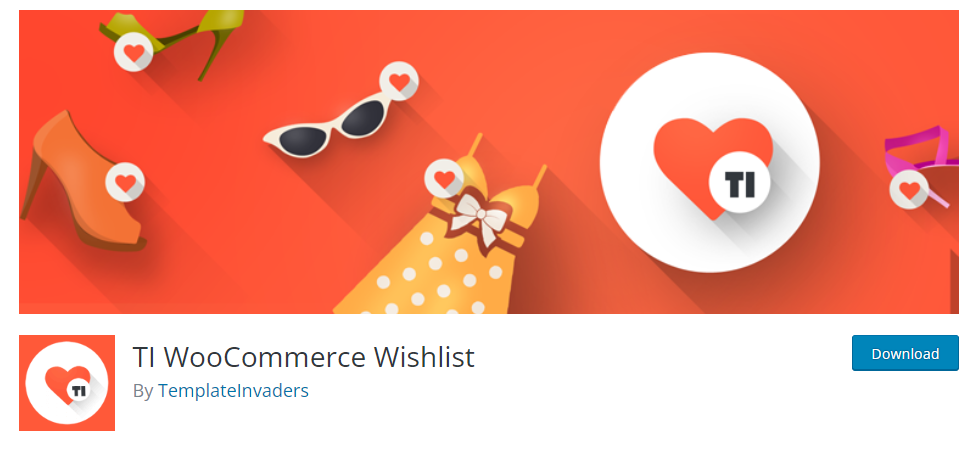 TI WooCommerce Wishlist keeps it simple but has a lot to offer. Getting conversions is made easy and with the help of this plugin, you will be turning your website's visitors into loyal customers in no time. Sometimes, you just do not want to or for some reason can not buy a certain product. This is where TI WooCommerce Wishlist comes in.
With this plugin, your customers can save the products they currently can't buy so they know exactly which ones they had their eyes on. This gives them a push to return to your site later on and go through with that purchase. It is intuitive and designed so it encourages your customers to check out and buy even more of your products. Sharing wishlists is also possible, so this feature might bring in even more potential customers.
10. StoreCustomizer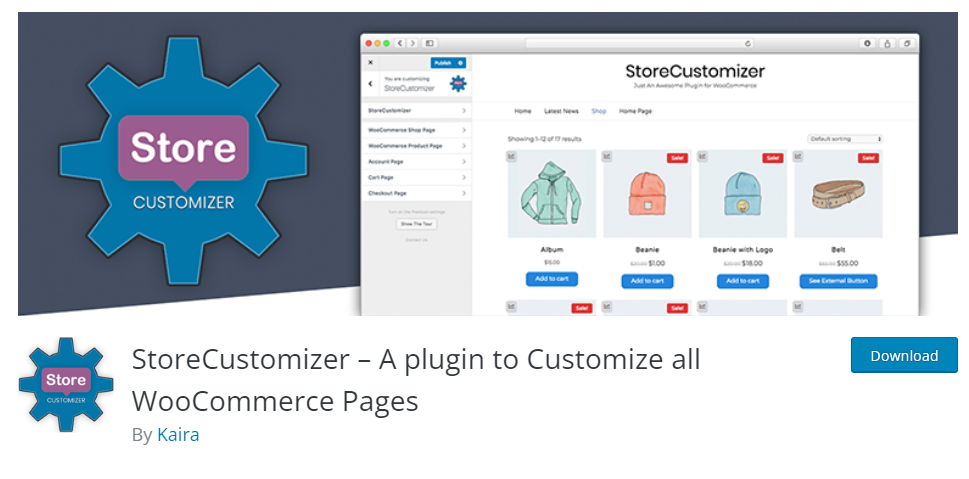 StoreCustomizer is a useful plugin that you can create your perfect eCommerce page. Altering your site's appearance is important since you surely do not want it to look amateur or childish. With it, you can edit both your store and product pages. You can also edit the cart, checkout, and your user account page. So, StoreCustomizer gives your common WooCommerce templates more options when it comes to their design.
Conclusion
There are many services that can assist you with your WordPress eCommerce business, and you should definitely check out the ones on this list since they are all worth it. They make your job a lot easier and make your customers' experience better than it will ever be. Especially the Table Rate Shipping plugin, which is a great bang for your buck. It is the top spot on our list for good reason.