A social media manager is often in charge of developing a company's social media strategy and increasing engagement. Social media managers frequently need to have a talent for storytelling, an eye for design, and the ability to discern what resonates with an audience and what doesn't to be effective in that position. A social media manager is a specialist who acts as a company's spokesperson on social media. They are in charge of making content and reacting to feedback. Social media managers seek chances to broaden their company's brand visibility.
He is in charge of directing how a business interacts with the public by putting content strategy for social media platforms into practice. They must analyze engagement data, spot patterns in consumer interactions, and develop digital initiatives to foster an online community. Successful social media managers understand how to interact with users, gain insights from monitoring tools, and coordinate their efforts with a brand's objectives. Also, they follow social media trends and know how to interact with the brand's fans.
To achieve all of the above mentioned, good social media managers will utilize several tools that will significantly help them with their job. These tools provide useful features and shortcuts that will improve the workflow. Here are some of the best tools available for social media managers.
Other Perspectives
The Other Perspectives tool gives you powerful insights to fuel your social media strategy. it helps you grow your social presence to keep an eye on your competitors and see what campaigns lead to their maximum growth. It helps you develop content strategies by monitoring stats and improves performance by identifying what makes a post viral, generates in-depth reports that will impress your clients and managers, runs competitive analysis with modular dashboards with relevant KPIs, and evaluates and benchmarks pages to create a solid strategy.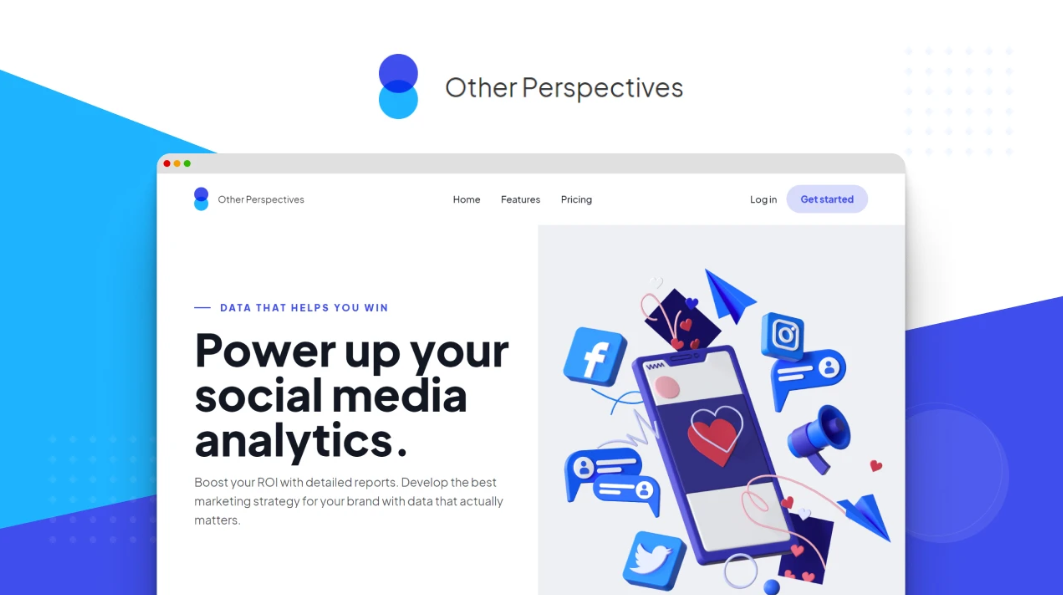 The PRO plan goes for just $59 for a one-time payment and helps you manage up to 20 profiles, and gets you unlimited white label reports, 5 profiles swaps per month, competitive analysis, post analysis, custom date range, 6 months of data history, smart insights, and 3 custom dashboards.
WP Social
WP Social lets you add social logins, counters, and share buttons of different styles to your WP site. It makes it easy to log in to your WordPress site with users' social media accounts. You can integrate WP Social with social media services such as Facebook, Google, Twitter, LinkedIn, etc.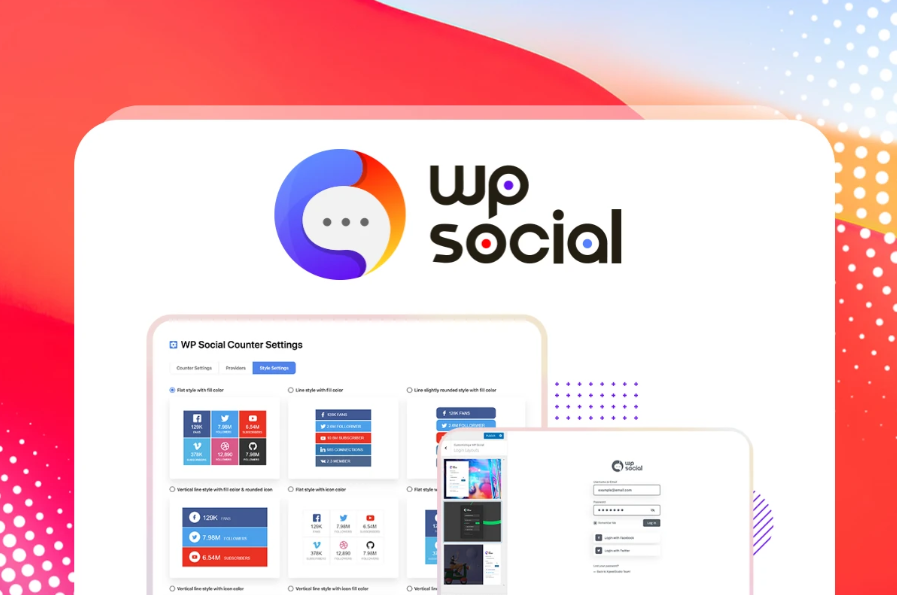 Wp Social provides editable templates to provide more attractiveness to your admin login layouts. With just a few clicks, users may upload content straight to 15 social media sites, including Pinterest, Facebook, and Twitter. By your ideal user experience, you can also decide whether to display or hide the share count, manage custom login redirect URLs, or display or conceal social login buttons for certain pages.
On 15 social networks, including Twitter, YouTube, and LinkedIn, you can see your total number of fans, subscribers, and followers on social media. Additionally, you may pick from 18 icon styles, including various shapes, colors, and styles, and 11 hover effects. Even the cache hours for the counter data may be determined.
There are two plans in this offer, the Pro Plan which costs $39 with all the above-listed features and 5 site licenses, and the Agency plan which costs $78 with all the above-listed features and unlimited site licenses.
RADAAR
Aimed at small and mid-size enterprises, RADAAR is designed as an all-in-one social media management platform made to handle multiple social media profiles. It provides many features like the scheduler, social media inbox, social media monitoring, analytics, password manager, task manager, URL shortener, landing pages, RSS feeds, and stock library. Also, RADAAR easily integrates with Facebook, Instagram, Twitter, LinkedIn, Pinterest, TikTok, Telegram, and others.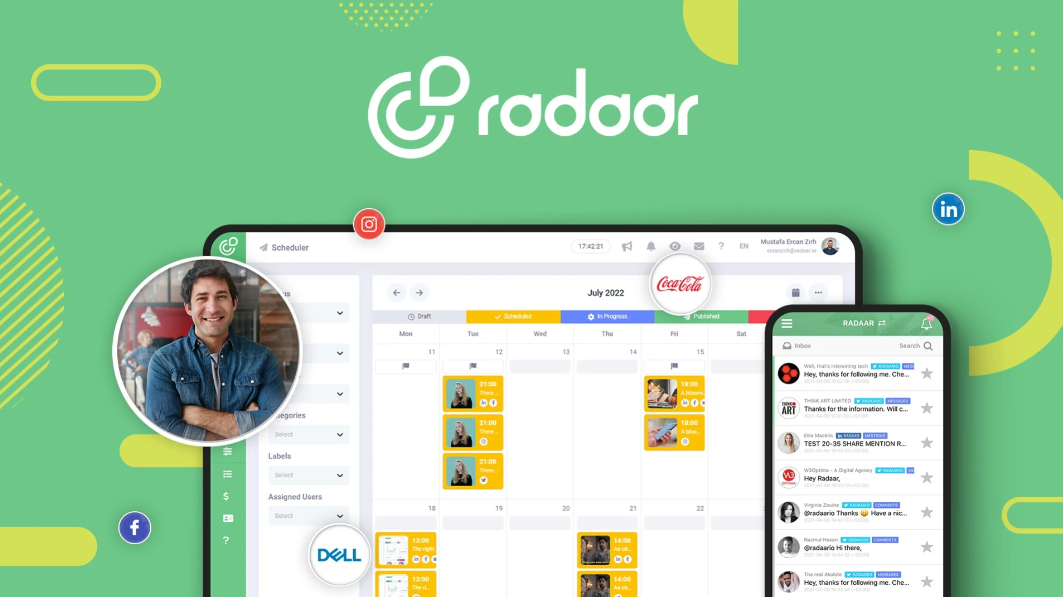 The RADAAR plan costs $59 for a one-time purchase and comes with 1 subscription, 12 social media profiles, unlimited posts, 3 monitoring queries, unlimited report boards, a task manager, a password manager, etc.
Buffer
Small businesses and individuals rely on Buffer, a user-friendly, efficient social media management platform, to help foster meaningful engagement and achieve results on social media. They have several products that support team collaboration, simple landing pages, publishing, engagement, and analytics. The products are carefully thought out and thoroughly refined to aid social media teams and marketers in their work.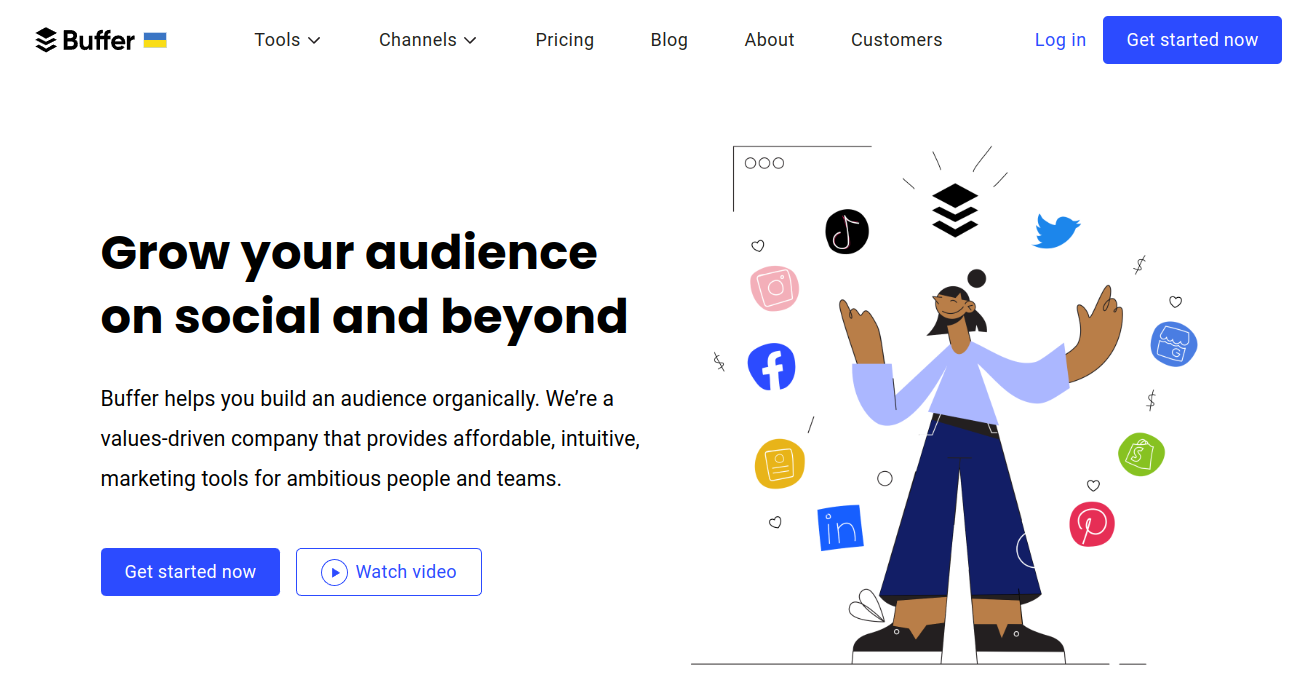 Buffer enables you to simultaneously schedule, publish, and analyze content for several social media networks. Additionally, Buffer offers a cutting-edge creative tool that enables you to transform quotations into graphics to increase interaction on your posts.
Having in-depth knowledge of many social media management platforms is likely to impress hiring managers and make you stand out as a serious candidate because different businesses utilize various scheduling and tracking solutions.
SocialBee
A social media management application called SocialBee claims to generate more leads with less work. Users can create, arrange, and share material across several social channels from one location thanks to the platform's key functions. As a bonus, this tool offers integration with Buffer.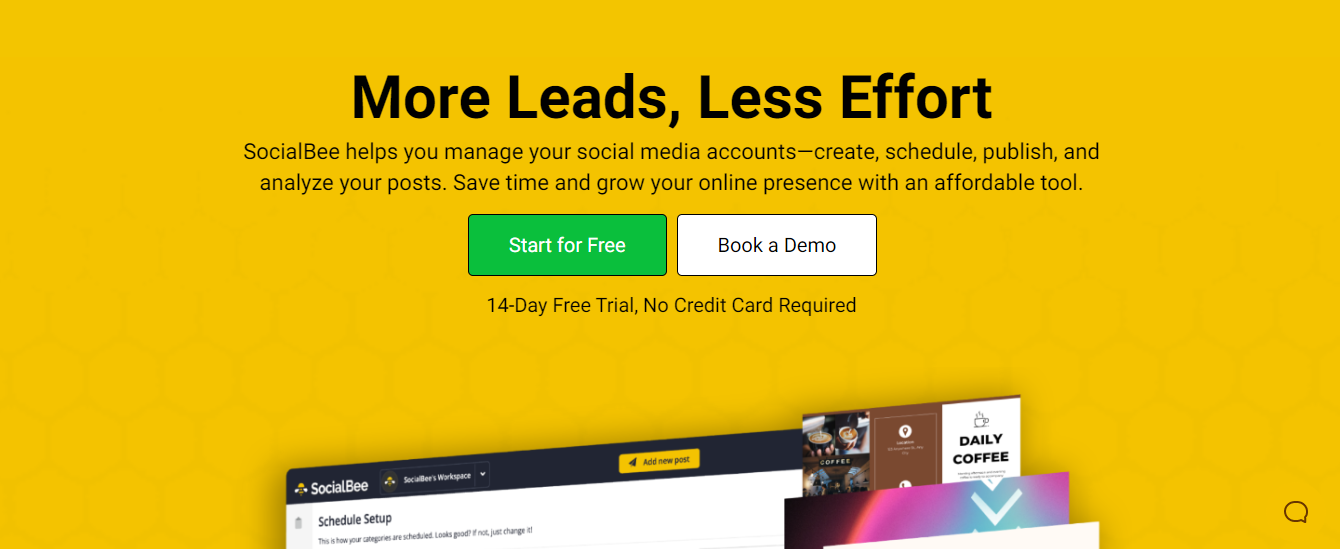 The ability to reuse evergreen material while keeping it new by employing post variants is one of SocialBee's most cherished features. Having a regular posting schedule and a generally well-balanced mix of information in each category is possible with SocialBee. More than that, SocialBee's support staff is another highly regarded feature.
Sendible
A social media management solution called Sendible was created especially for businesses with several clients. In addition to the majority of functionality that social media management solutions offer, Sendible lets you brand your dashboard to draw in new customers.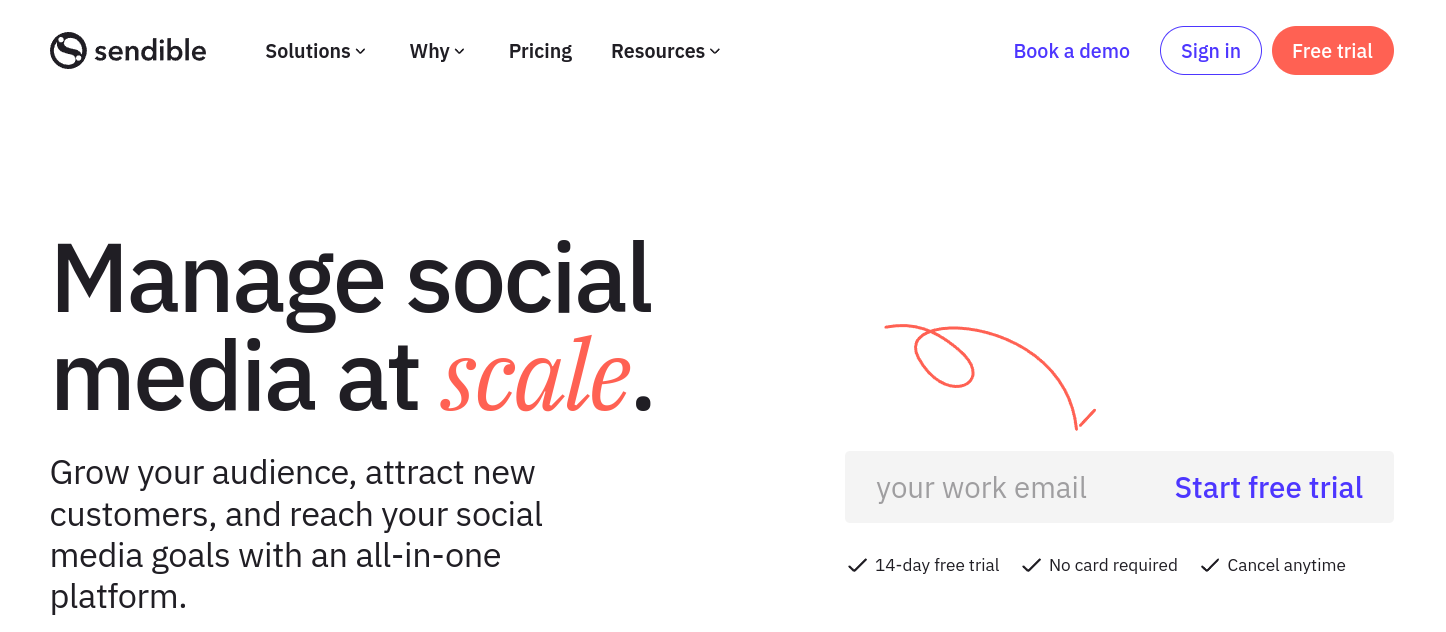 Impressive Sendible features include searches for royalty-free images, YouTube, and the Canva graphics editor. Additionally, it offers some automation for people who wish to cut down on time spent on tedious duties.
HubSpot
HubSpot is an all-in-one inbound marketing software. The social media management capabilities from HubSpot are a component of their all-inclusive marketing platform, which has a monthly price point of $50.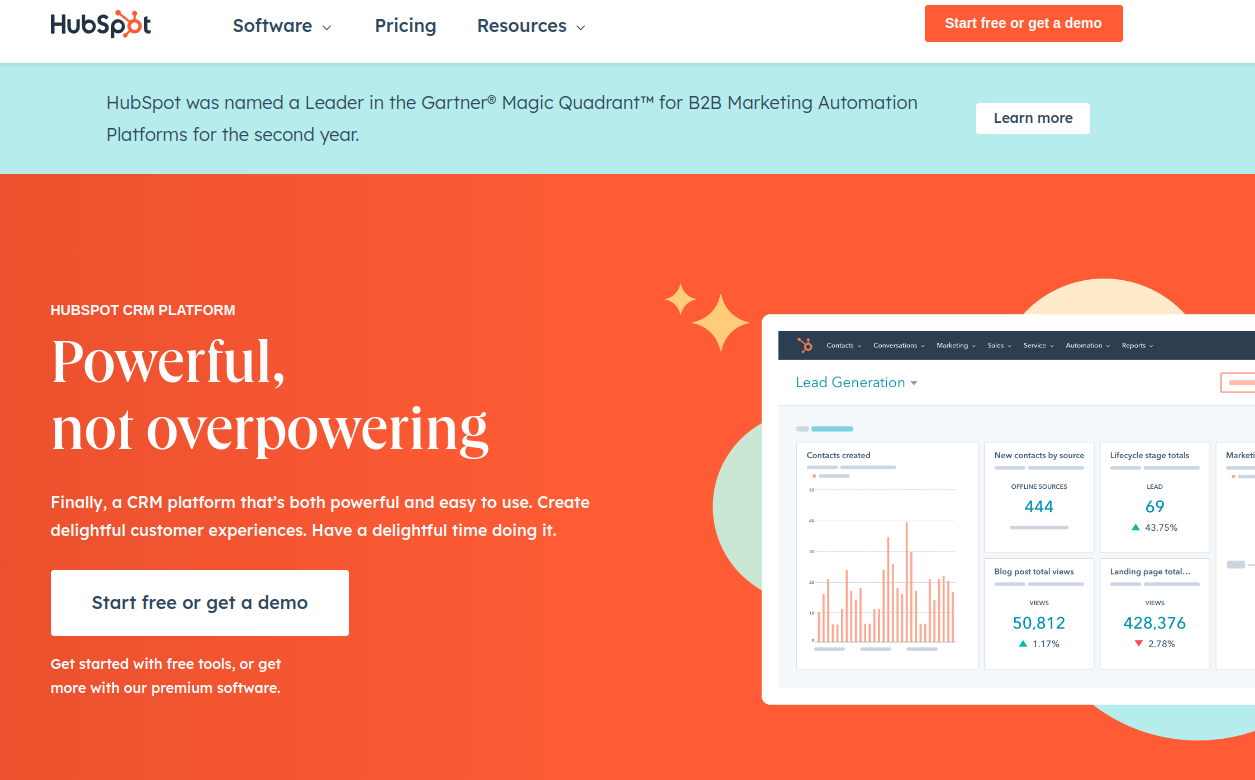 HubSpot is an all-in-one solution that simplifies inbound marketing by putting all the tools in one place. Executing social media is a snap because of HubSpot's fantastic social media calendar and scheduling technology, which has good visibility. In the battle to optimize your lead generation, nurturing, tracking, and conversion, HubSpot provides a variety of weaponry.
With the help of these tools, you may obtain a complete picture of how users are finding your website, what search engines they used, what they're doing while browsing, and how soon they leave. HubSpot includes a ton of tools that can be used to track keywords, raise the rating of your website, and create SEO-friendly content. Without needing to recruit staff with an agency, web design, or programming experience, HubSpot makes website updates and adjustments available to everyone.
Conclusion
A successful social media manager uses a good tool that does multiple things at the same time, which helps boost productivity and create great results for the clients. If you also want to be successful, you should consider one of the above-mentioned options. Our recommendation, as one of the most comprehensive tools, is the Other Perspective tool.